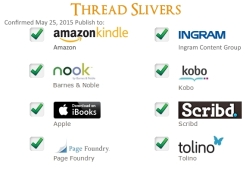 Thread Slivers has been scheduled for final release publication yesterday.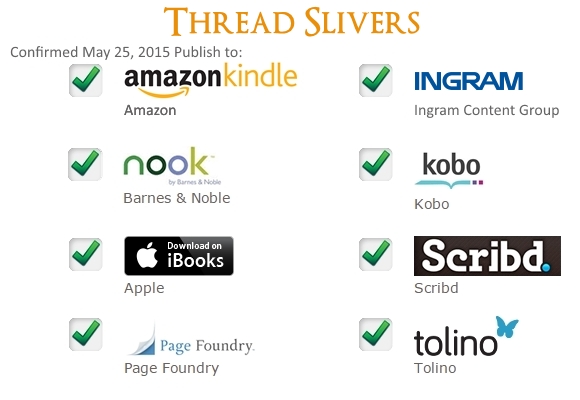 This weekend in addition to finally putting away the Christmas lights (yes, they've been up this long) I worked on getting the revised edition of Thread Slivers out the door. It has been lounging in the corner easy chair, drinking my tasty beverages too long. Using the tough love approach (aka my best imitation of Duke), I kicked it out the door and told it to get to work.
The new version has been uploaded to Amazon and I've asked them to refresh it on their site and in everyone's inbox. Hopefully they'll agree and let everyone update for free (this use to just be automatic a year ago…) Best news is anyone that buys it now will get the new edition.
Even better, I have the hardcover and pocket paperback editions loaded into Ingram. Ingram's people are reviewing them now for printing errors. If everything goes well in about 2 weeks I'll have the 5 proof print copies for both in my hands for a final check.
The official release date has been set as May 25, 2015. The digital editions are now moving through the distribution channels that support pre-orders (like Apple). In fact the book is already for sale as a pre-order in Apple iTunes (click here to see it)! This is huge. I tried for six months to get Apple to take the book via other distribution channels when I released the first digital edition in 2013.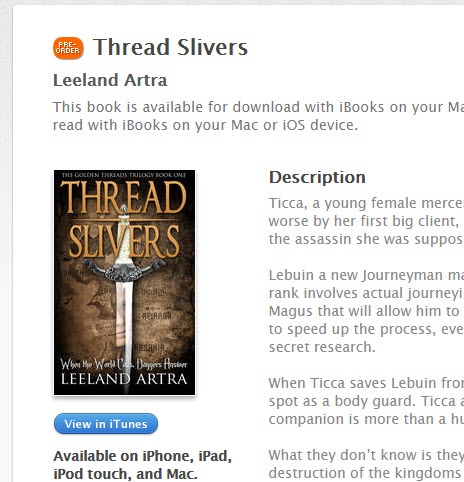 Did you see the Music Video?
The Kickstarter for the third book met a backer goal and as a reward I posted the world premier of "Build a Home" from Thread Skein, by Leeland Artra, performed by Karen Thomas at the Jam Room NI in the update – https://www.kickstarter.com/projects/421697159/thread-skein-book-3-of-golden-threads-trilogy/posts/1197729.