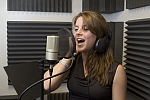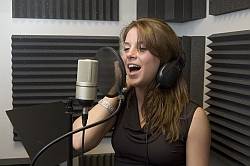 I have had too many pans on the stove for months now. Thankfully, they are finally finished cooking, and I'm beginning to get some free space allowing me to apply fire more fully to my other projects. One of the biggest pans was the Thread Slivers audiobook project. It took far more time and energy than I expected.
It should come as no surprise, I'm very happy to announce Thread Slivers the audiobook is "done." It has passed the quality checks and is available on Audible, Amazon, and Apple iTunes.
Now that the audiobook is available on these sites, it needs some reviews. Therefore, I am giving away a free audiobook to the first ten (10) people who listen to Thread Slivers and write a 50+ word review of it on iTunes or Audible.
All you have to do is
Get a copy of Thread Slivers from Audible.com (here: http://goo.gl/9xd070) or from iTunes (here: http://goo.gl/KxmIoI)
Sit back and enjoy the audiobook
Write a review of the audiobook
Email me with

A link to the audiobook review (if you can figure out how to get it, if not I can hunt it down with the rest of the info)
The name/id used for the review
Your name and email address you are subscribed to this newsletter with (see bottom of this email for that info if you are unsure).
I will check that there is a recent 50+ word review posted by you. Then, I will send you one of the remaining ten voucher codes available with instructions on how to submit it to Audible for your account to get one credit usable for any audiobook you want.
That's it. Check back here later to see who won. I'll update this list with the winners.
Scott Poe, 4.3/5.0 Stars, "Thread Slivers was one of the best independent books that I read in 2013.",

Audible.com http://goo.gl/QSCNvt
Sam Poe, 4.3/5.0 Stars, "A cross between LOTR and Ender's Game; It has the scope of LOTR but with the inner dialogue of Ender's.",

Audible.com http://goo.gl/WrCL0X
Ricardo Rubio, 5.0/5.0 Stars, "plot twists have me speechless",
,
http://goo.gl/3C1CcU
So, how did the Thread Slivers audiobook project break down? Well, I thought I would find a top notch audiobook production company, hire an amazing producer, and then get back to writing. Although, I did find one of the best production companies in the world (Brick Shop Audio http://www.brickshopaudio.com/), and with them, Robert Granniss (who is truly an audio wizard), I still ended up spending far more time than I ever expected on the project.
In the end, the Thread Slivers audiobook came out better than I ever dreamed of. I'm so excited to be able to say it is now available.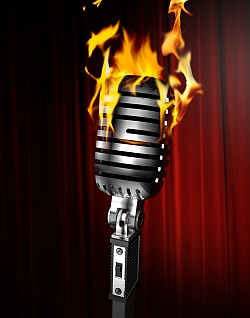 What makes Thread Slivers audiobook so fabulous is
A cast of seventeen well known voice actors (including Denise Poirier, the voice actress for Aeon Flux, as Ticca)
Produced in one of the best New York audio studios used for block buster movies and TV
Custom composed and performed music by Hollywood composers for fantasy and sci-fi movies and HBO series
Edited together with the audio soundscaping magic used for shows like Radio Lab by one of the best audio engineers in the business
Thread Slivers is now a truly awesome audiobook experience!
The multiple points of views, pronunciations of names, and the soundscaping all became multiple plates I had to keep spinning. I think the best advice I have learned from this whole experience is to count an audiobook production as a full book editing and production job. The most important lesson I learned was when asked for how something is pronounced to not try to type it phonetically but to grab a recording device (cell phone, computer microphone, or even digital voice recorder) and send back a recording of the pronunciations requested.
Of course many things went wrong. One of the most annoying things was a surprise by Audible. Audible rejected the initial version of the book because they demand silence between the chapters so that their audio players can properly detect save points. We had made custom music and that flowed between the chapters and sections. In the end we had to do a fade out and fade in. I think in the second book we'll have to downplay the end and start music.
To get started, I had to compile some production notes. The details are actually pretty interesting on their own. Here are some of the more interesting initial production notes.
Female voices:
Ticca – Denise Poirier
Boadua – Erin Mallon
Sayscia –  Jennifer O'Donnell
General Eshra-Zunia – Saskia Maarleveld
Male voice:
Lebuin – Michael Braun
Urio-Larne – Ford Harding Knox
Elades – Paul L. Coffy
Ossa-Ulla – J.M. Badger
Ladro – Tom Picasso
Dohma – Graham Halstead
Warlord Maro-Asua – Adam Chase
mayor of Algan – Jim Jenner
POV breakdown:
Chapter 1 – Ticca – pg 7-18
Chapter 2 – Lebuin – pg 19-31
Chapter 3, pt 1 – Ticca dreaming – pg 32-33
Chapter 3, pt 2 – Ticca – pg 33-43
Chapter 4 – Lebuin – pg 44-56
Chapter 5, pt 1 – Ticca – pg 57-61
Chapter 5, pt 2 – Ticca dreaming – pg 61-62
Chapter 5, pt 3 – Ticca – pg 62 – 62
Chapter 5, pt 4 – Lebuin – in a ghostly dimension/dreaming – pg 63-65
Chapter 5, pt 5 – Ticca – pg 65 – 69
Chapter 5, pt 6 – Lebuin – semi-awake/maybe dreaming – pg 69-69
Chapter 6, pt 1 – Ticca – pg 70-73
Chapter 6, pt 2 – Lebuin- pg 73-82
Chapter 7 – Ticca – pg 83-96
Chapter 8, pt 1 – Ticca – pg 97-99
Chapter 8, pt 2 – Boadua – pg 99-104
Chapter 8, pt 3 – Urio-Larne – pg 104-106
Chapter 8, pt 4 – Ladro – pg 106-110
Chapter 9, pt 1 – Lebuin – pg 111-116
Chapter 9, pt 2 – Ladro – pg 117-123
Chapter 10, pt 1 – Dohma – pg 124-132
Chapter 10, pt 2 – Ticca pg 132-138
Chapter 11, pt 1 – Lebuin – pg 139-143
Chapter 11, pt 2 – Lebuin dreaming – pg 143-146
Chapter 11, pt 3,4,5 – Lebuin – pg 146-154
Chapter 12, pt 1 – Dohma – pg 155-163
Chapter 12, pt 2 – Ossa-Ulla – pg 163-168
Chapter 13 – Elades – pg 169-183
Chapter 14, pt 1 – Dohma – pg 184-193
Chapter 14, pt 2 – Sayscia – pg 193-197
Chapter 15, pt 1 – Ticca – pg 198-202
Chapter 15, pt 2 – Ticca dreaming – pg 202-208
Chapter 15, pt 3 – Ticca – pg 208-213
Chapter 16, pt 1 – Lebuin – pg 214-218
Chapter 16, pt 2 – Ticca – pg 218-219
Chapter 16, pt 3 – Warlord Maro-Asua – pg 219-219
Chapter 16, pt 4 – mayor of Algan –  pg 219-221
Chapter 16, pt 5 – General Eshra-Zunia – pg 221-223
Page Count by POV:
67        Ticca
59        Lebuin
25        Dohma
14        Elades
10        Ladro
5          Boadua
5          Ossa-Ulla
4          Sayscia
2          General Eshra-Zunia
2          Mayor of Algan
2          Urio-Larne
1          Warlord Maro-Asua
POV NOTES:
Each POV section is ONLY from that specific character's point of view. I do not cut back and forth. So that means each POV section is a different slant on the world unique to that character's perceptions. This means that the POV includes the character's thought processes. The actors should always read "in character."
Items in italics are internal dialog, aka the character thinking to himself/herself..
Dreaming sequences are not exactly dreams but are otherworldly experiences that occur when the main character is pushed into a sleep like state.
POV Characters:
Ticca is a 19 year old highly trained warrior who loves drama and really wants to make a huge mark in the world.  Her general speech mannerisms are American Marine.
Lebuin is a twenty-four year old pompous dandy of a wizard who JUST graduated from the guild. His plan was to become the best librarian the wizards' guild ever had. Lebuin should have a light British accent. He has a real issue with dirt and is an extraordinary fashion snob. His general speech mannerisms are pampered, spoiled rich guy.
Boadua is a matronly retired military officer turned nun/nurse; she is in her 40s. She should have a New England style accent.
Urio-Larne is a senior military man about fifty years old of long military experience. He should sound like an old horse chewing on some fine oats.
Elades is a veteran warrior, been there, seen it, willing to do it again to save the innocent. Tough as nails with a heart as deep as the ocean. He's a man in his forties and a military commander.
Ossa-Ulla is a man in his twenties with a strong English accent. He is a tough cookie and knows it.
Ladro is a man in his thirties who knows how to work. He is the perfect New England butler or man servant. He is polished and very capable.
Dohma is a thirty year old strong voiced military commander who came up through the ranks. He should have a simple American accent and yet have some strong tones like a king might have. He should sound plausible as a front line commander or a high king of the land.
Sayscia is a thirty year old soft, almost musical, lady of impeccable standing. I'm thinking an American Julie Andrews.
Warlord Maro-Asua is a fifty year old man who is very used to having everything he says done instantly without question. Although he can be soft spoken at times, he is normally a hard man.
Mayor of Algan is an eighty year old thin man with a soft southern accent, nothing too strong. He should sound like everyone's favorite uncle.
General Eshra-Zunia is a woman in her thirties who has an odd accent that is barely perceptible (maybe Arabian hints in a typical American accent).
Other Character Notes:
Ditani is an old servant who comes from Karakia which is roughly equivalent to the Native American Indian's tribes. Ditani has the mannerisms of a perfect English butler with an American Indian accent/tone.
Orahda is a very old and wise soldier. He should have an odd accent that is very different from everyone else but not place-able.
Many things on this project took time and some significant thought. One of the bigger things this project required was that I needed to record the pronunciations of every name used in the book. Of course there was also the need to listen to the whole book multiple times to make sure it was correct. Finally, there were some specific sound effects that needed a lot of time to hunt down just the right sounds, license them, and then mix them together into something that helped the audio-engineer understand what I was really after.
After all this, I am really looking forward to your feedback on this project. I want to know if going to this level of production is worth it. Or should I just find one really nice voice and have them record a more normal audiobook?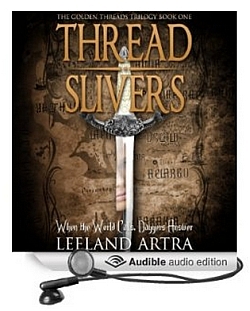 Hear for yourself what all this added up to, get it at: