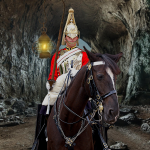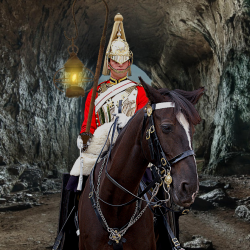 Things are progressing steadily. I've managed to correct some issues with the presentation of some of the backstory leading us closer to the climax of the trilogy. At this point, I have 66,705 of 130,000 words complete or 51.3% of book three done. I've been doing about 2,000 words a night when I can get to writing. Recently that has been roughly three or four nights a week.
This evening I managed to put out almost 4,000 words in a hard push to get the current chapter done. Even though the current chapter is just over 8,000 words it was hard to find a real non-spoiler chunk to share. Here is a rather interesting scene from this chapter which I am sure a large number of fans of Ticca and Lebuin getting together will enjoy. Note I'm not committing one way or the other on this subject. Still it is a fun moment for them.
---
Ticca pushed herself off the wall and stepped up to Lebuin, standing toe to toe. She looked into his eyes. "You have put a spell on me or something. These feelings I have are too intense to be natural. I have been fighting them ever since that incident at the Nhia-Samri base. You put me in a spin. When you are so near, I can't think, I can't act, I don't know which way is up."
Her lips came closer. Lebuin's gut was trembling at the closeness. He could feel her hot breath on his lips. He had to fight to keep from grabbing her and tasting her kiss again. Just before their lips touched, she pushed away from him violently.
"NO! I decide my own destiny!"
"Then what was that?" He waved indicating the vision.
He knew that she was precisely aware of what he was thinking.
"I don't know. But that wasn't me! It was someone else. I'm not a princess. Maybe it was some spell you did to trick me."
He stepped back. "I'd never! I don't even know if that is possible. I had nothing to do with that!"
"You said you smelled horses! When I got close we were suddenly there. How do I know you didn't take us there?"
He sniffed the air, and the musky animal scent remained. "I do smell horses."
She sniffed a questioning look on her face, "yes I do too."
Ticca spun at the sound of horse hooves her knives in her hands.
A tall man wearing a formal guard like uniform rode out of the back of the cavern. He carried a strange torch that didn't use fire but created a bright non-glaring light. He rode toward them. As he approached, he frowned.
"Your highness, what are you doing here? This is a dangerous…" The rider's eyes landed on Lebuin going wide as his face went white. "Lord Lebuin! You can't be…" then the man and the horse faded, vanishing completely.
Ticca ran to the spot where the rider had been. Kneeling, she examined the clear horse prints in the dirt. Lebuin stepped up next to her.
She looked up. "These aren't just visions. I think they are real. But what do they mean?"
A chill ran through him. "This has to do with what happened to Elraci. None of the gods want to deal with Elraci and in fact, they fear it. Both Argos and Lothia were sad I'd have to learn about it. They felt it might be too much."
Ticca stood. "Unstable doesn't really describe this. Besides, I knew that man."
Lebuin raised his brow, waiting for an answer.
Ticca shrugged. "Well it's no secret. I didn't actually meet him. But, I have seen him a few times. That was Orahda the weapons master of Aelargo's guards." She pointed. "He came from what I wanted to show you. They might be connected."
---
Thank you for reading this excerpt. If you liked it, or have some thoughts on it, I'd love to hear from you, please comment below with your feedback.
Also, if you enjoyed this you will enjoy the rest of the Golden Threads Trilogy. Why check them out? The series has been a regular bestseller since it came out in early 2013. Trust me, it is best to start with book one Thread Slivers.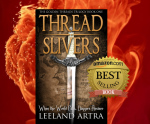 If you are a fan, why not join my Street Team? They get to know everything way in advance and help plan some of my events. If you're not a Street Team kind of entity, but still like to know things before the general public, you should join my mailing list where I send announcements about new releases and coming work (http://eepurl.com/woxIX).
"It's really hard to believe my books have been bestsellers for over a year! Guess that makes me a real fantasy/sci-fi bestselling author. Come and read all my books at http://amzn.to/16fsOUI."