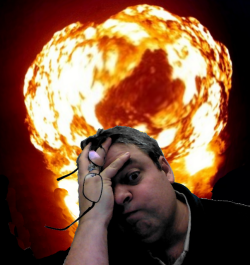 I've had a hellish month. I've written chunks of the last book, but as some fans have pointed out, the little meter thingy on my website is showing precious little progress. It isn't that I didn't have the time, or that life tossed me some troubles (well a few but not enough to stop progress), but progress was still agonizingly slow.
Truth is, I get everything set up; I sit down and start typing, and then I end up doing research, or re-editing prior chapters, or reading sections of the first two books. What is killing me is here I am with two or three solid hours to write the last book, and then suddenly, the time is gone. This is maddening to say the least, and I have been in a downward spiral of guilt over it for five weeks now.
I've tried all the tricks:
Distraction? Have you seen the great new website and group I built called Fantasy and Science-Fiction Network?
Building a new idea? I wrote almost half of a new science-fiction series based on the origins of Duke, before I decided I needed to finish the last book of the Golden Threads Trilogy.
Outlining? Well I have analyzed the heck out of my original plan for the last book. I have revised it, cut it around, and in the end, am very happy with its layout (which looks suspiciously like the original).
Adding an unexpected event to really twist things up a notch? As if I don't already have enough of these, sure why not, and that is why… well no spoilers – but we'll have fun speculating over which unexpected event in the book was added trying to get past this writer's block.
Did the story go seriously off track and need to be corrected? Um, no I love it; the events are all tied together, see outlining above.
Step up the characters because I'm getting bored with them? Not on your life, have you SEEN Ticca in a fight? I mean, WOW. Lebuin? He makes me cry and laugh. Nigan? I'm just smiling saying his name. Illa? Love her to death. Duke? Never, ever going to get tired of that old wolf. And so on…
Depressed/polarized by negative feedback? Okay, yes this had me for a while. But, I recognized it for what it was. One reviewer really got under my skin, and I was an emotional train wreck for a while after reading the review.
Still, I wasted another three hours only last night.
The answer just hit me like a truck this morning on the way to work. I was listening to a podcast of Radiolab by NPR, and it struck a chord in me. The moment was so amazing I actually stood up on the bus and jumped up and down. The episode I was listening to was "Help!" http://www.radiolab.org/story/117165-help/ which has a fabulous description, "What do you do when your own worst enemy is…you?"
Why have I had this major writer's block? I'll give you a hint. I have said it a few times in this article already. The problem was staring me right in my face. Ticca, Lebuin, and all my imaginary friends didn't want to come out and play for this book because I was calling it "the last book." You see, I don't want this to end. I had so much fun writing down what all these fabulous people did and sharing it with you that I didn't want it to end. Yet, I promised on a stack of books by Isaac Asimov, JRR Tolkien, Roger Zelzany, and many of my other favorite authors I would not drag this story on into some ungodly long series. I promised there would be three books, and that was it. And let's face it nobody likes to stop doing something that is fun. No wonder none of my wonderful fictional friends wanted to come out and play, and I couldn't bring myself to write those last ten chapters.
How do I fix this? Well, I hereby promise to all my friends and fans that this is NOT the LAST BOOK for Ticca, Lebuin, and all our new friends. This is, of course, kind of a spoiler in that you know the world survives, but, come-on, I'm a hyper optimistic writer, and you all knew that this wasn't going to be a tragedy.  Now, of course they have to stop a war, save the world, and maybe finally resolve some of that romantic tension they can't seem to figure out. But, they'll be back.
Now, if you'll excuse me, Ticca and Lebuin are demanding to get back to exploring that blasted hole in the ground.
The Golden Threads Trilogy books are:
Wow, I'm a bestselling author! You can find all my books on Amazon (http://amazon.com/author/lartra)!