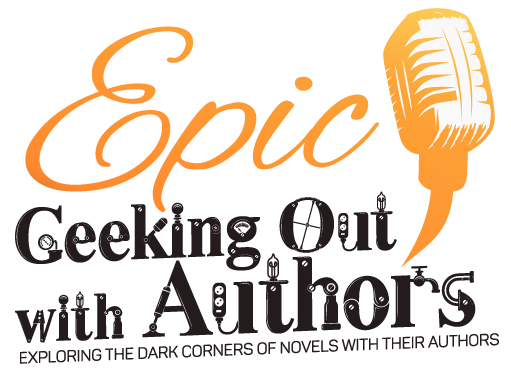 Epic Geeking Out with Authors is a live recorded, Blab.im show which is sound edited and posted as a video blog on YouTube.com and as a Podcast. The show is entirely an on-the-air broadcast of what normally would be edited out of a podcast interview. Here, we "geek out" with authors about their own works, no shame. It is not about promotion, just geeking out over some of the more interesting elements. Yes, this means ripping the covers off the books and showing off spoilers, strange tidbits, etc. Every single show has a 99.9% chance of having spoilers. You have been warned.
geek
/ɡēk/
noun
a person who has excessive enthusiasm for and some expertise about a specialized subject or activity.


a foreign-film geek.
verb
engage in or discuss engineering details obsessively or with great attention to technical detail.


"We all geeked out on Star Wars for a bit and exchanged ICQ/MSN/AOL/website information"
---
Authors are geeks, too. We would like nothing better than to geek out with other genre loving folks over movies, books, and the possibilities of the universe.
Authors are readers, too. We love reading books. Even more once we've read a book we'd love to talk about it with someone else and geek out over the story, chat about the prequel and sequel ideas. We know other readers love doing this as well.
Authors love sneaking things into our stories. We love slipping in clues; sometimes we get an idea that makes us dance with joy as we run through the book, adding foreshadowing hints. Sometimes we expose it at the end like a magician; other times we leave it for the readers to suspect, like hidden Easter eggs.
Authors are sometimes very lonely and sad because we feel a little guilty trying to geek out with others over our stories. We're afraid people will think we are self-centered or  trying to push our books on them. But really, we created an epic story, and like every reader, we'd like to geek out over it like we do about other authors' books. We, also, don't want to spoil the joy of finding those Easter eggs. So, we stay silent and suppress our desire to talk about the secrets in our stories.
Now there is a place where authors and readers can, without fear or guilt, geek out over their own works! A real honest-to-goodness geeking out on books show dedicated to the joyful exposure and answering questions normally left hidden.
When being a guest on a podcast, radio, and other media interviews, before and often after the interviews, there is always a really fun, more open and informal chat between guests and hosts where a lot of information is discussed without any constraints on context, stuff that doesn't fit the context of "improving writing" or "tell me about your life" or whatever the interview was about.
The conversation naturally roams around for a bit as guests and hosts "get to know" or "catch up with" each other. And that is what Epic Geeking Out with Authors is going to capture. It is the on-the-air broadcast of what normally would be edited out of an interview. Here, we "geek out" with authors about their own works, no shame, no guilt, and no secrets, just pure joyful geeking out over some of the most interesting elements. Yes, this means ripping the covers off the books and showing off spoilers, strange tidbits, etc. So if you don't want to hear spoilers about a book you're looking forward to reading that we will be talking about, then don't listen, because this is no holds bar geeking out!
Even better, everyone can participate. These shows are live, and we watch the audience chat feed for questions. Sure, we'll cherry pick the questions we want to delve into. No guarantee we'll answer your question, but odds are pretty good the author will at least address it a little. Authors coming on the show will identify "stuff they really want to talk about but don't cause they've tried to keep the cat in the bag" and hopefully ask their fans for questions in advance that they'd like answered, regardless of how much that would kill the story for someone who hasn't read it yet.
Questions and places we'll be going are stuff like:
Asking "Man, that ring moment in Sixth Sense was really awesome. Was the show planned that way or did someone suggest 'hey what if the lead was a ghost too?' Where did that come from! How hard was it to pull off?"
Or just the author saying "Oh man ya, when I decided Darth Vader was going to be Luke's father I totally got chills. Of course I had to go back and work in some foreshadowing. Still a lot of people missed the clues." — "Really like what?" — "Well, my favorites are…"
Requirements for Guest Authors:
A massive geek streak in your soul!
At least 1 book published in the right genre (so we have something to talk about)
Book (if in series whole series) must be 95% PG-13, language, violence, sex can step over the R rating level a LITTLE, but looking for generally flinch free reading stuff
Book must have > 3.8 ratings with at least 20 ratings (on any venue site, Goodreads would be optimal)
Willing to rip the covers off and let the spoilers, easter eggs, and plot holes out of the bag
If you have a free ebook epub/mobi/pdf of the book you can share with the co-host and host in case they haven't read the book yet would be deeply useful but not required.
Note: you can invite one of your super fans to be a guest co-host.
If you're a published author and want to come on as a featured author, click the link and submit the form:
Want to be A Co-Host?
You must be an unrepentant sci-fi / fantasy / steampunk geek!
And, you need an irrepressible curiosity and willing to ask questions.
If this sounds like you click on the request to be a guest co-host form button:
Resources:
You can chat about previous shows, ask questions for upcoming shows, suggest authors, and connect with listeners and the hosts on Facebook at https://facebook.com/EpicGeekingOut
The current schedule can be found on the publicly visible Google spreadsheet at https://docs.google.com/spreadsheets/d/1YtHnWHVmLI8VLkH2O3kggVfcIlf0aEbFRiVc7OdeIEI/edit?usp=sharing
If you're a published author and want to come on a "guest co-host" or as an "author guest," please submit one of the forms above, or you can email us at

Author Office Time Chat
Got a question? Authors or readers are welcome to ask for an office chat. I'll gladly spend time live answering your questions about how to publish, writing tips, or details about my books. I've set aside up to thirty minutes a week to have a video chat with just about anyone about writing or my works. If the conversation is particularly interesting I'll process it out as a podcast for everyone.
Requirements:
One or more specific topics that we can chat about.
A webcam, reasonable audio microphone, and earbuds or headset.
Willing to come on Blab.im with me.
Able to show up 5 minutes early to the scheduled chat time
That's it. I don't guarantee everyone who asks will get an appointment. All you need to do is click on the button below and fill out the form. My assistant will get back with you and schedule an appointment for our chat.