Posts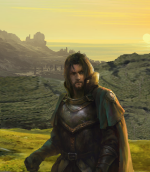 Behind
Thread Slivers
and
Thread Strands,
there is a complete history. With 15,000 years of history, there's been time for heroes and legends unique to Niya-Yur to form. One of the fabulous legends of Niya-Yur is Damega's flying ship the
Emerald Heart
. Was it real? Ticca seems to believe in it, and there is plenty of evidence, like the steel loop anchoring platform that is the fourth story of the Blue Dolphin Tavern. Where did Damega get this ship? Has there only been the one, or were there ever more than one? The combined legends around the
Emerald Heart
are too much to explain in a simple short story. Instead of telling the legend, I thought it would be more fun to explore it from the viewpoint of some of the people of Niya-Yur, in a mini-series.
Here is part one of a mini-series to introduce you to the origins of the Emerald Heart, Damega's legendary flying ship.