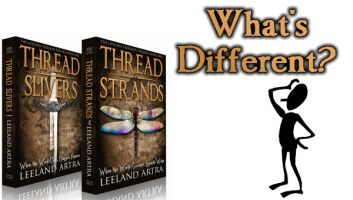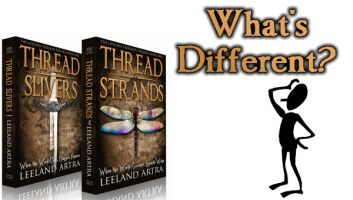 I got asked a great question today (again) and finally took the time to think through a clear answer. I'm sure many of you are curious so here it is along with a detailed answer.
First I need to explain that I just re-released Thread Slivers and Thread Strands. Also, as part of the re-release I've published them through all the major (and not so major) eBook retailers. So if you like iBooks on your iPad, or use Kobo exclusively, or prefer the feel of a Nook over a Kindle you can now get my books in your favorite flavor. Here are some of the services links (and they are all live):
| | |
| --- | --- |
| | Thread Slivers (Golden Threads Trilogy Book One): |
|   | Thread Strands (Golden Threads Trilogy Book Two): |
If you are a subscriber to one or more of these services I'd appreciate if you'd write a new review of the books on those sites – especially on iTunes and Google Play. If you are so incline I'd be very grateful if you bought the new versions to help kick start the sales rankings on those sites.
So What'd You Change Really?
Q: Hey Leeland, I have a question about the just re-released ebooks. I have already purchased the Kindle versions of Thread Slivers and Thread Strands. What is the difference between the earlier versions and these re-released versions? Thanks and can't wait for Thread Skein!
There is practically no difference in the story itself. It still starts where I wanted, follows the plots I laid down, and ends up at the same spot.
The largest difference is that Thread Slivers, the first book, only had a couple of editorial passes (that was all I could afford at the time). It has been through three more editors with slightly over 15,000 edits to dialogue, grammar, and some cleaned up scenes. These changes are very subtle and are likely nothing you'd notice unless you were specifically looking for them.
Also, Thread Slivers has a revised time line split between the story lines just after Ticca and Lebuin's first meeting. There were a number of people that didn't like the prolonged time line for the character point of views, where I had to jump back in time for the other character. The time jumps to keep the story in sync for the alternative points of view were not popular. To solve this I cut those scenes up a little thinner and shuffled them together so that the time line stays relatively in sync through that crucial initial launching of the plots. My editors helped me adjust the scene cuts, and overall I think the story is easier to follow now. A few of my dedicated fans and proofreaders have commented they didn't think this was necessary but it doesn't alter the story so much as the order you get it in.
Finally I had one glaringly huge issue in Thread Slivers; it wasn't the PG rated book I intended. I totally forgot to adjust the language of my so true to life marine that when the story flipped to him a number of people were massively put off by the sudden foul language (if you don't think that language is real, your right I actually trimmed it down to about 25% of the actual cussing as I wrote it). I know, I know, this is a personal item and most people don't have an issue with it. However, I had solved this problem a long time ago by using my fall back of Latin, Sumerian, and Akkadian language and real history. The Duianna Empire uses Latin formally and frequently. I'd already researched a lot of very interesting real cursing from the Sumeria and Akkadia societies which I then progressed up into Latin. (Side note: if you think our cursing is foul you'd be shocked by ancient civilizations, they really knew how to burn off your ears.) I was so excited to have Thread Slivers receiving such great reviews from professional editors and early beta readers I completely forgot to fix the language. This came round and bit me pretty hard when a few friends confronted me for the language in the second half of the book. Honestly, I had to go look to realize I hadn't corrected the language so much as forgotten to correct it (SIGH). Since the tiger was out of the cage I left it alone, but I did shift the language for Thread Strands and in Thread Skein hoping not too many people would notice. As long as I was re-editing and re-releasing Thread Slivers I took advantage of the moment to amend that initial oversight.
Thread Strands, the second book, has about 5,000 minor changes to dialogue improving the characterization and flow of the speech. Most of these changes are items I noticed when we had it turned into an audio book. The changes are based on what the actors actually said over what was written. What the actors said didn't change the meanings or go someplace new but they dropped or added some words "automatically" which were not even caught by the editors. These changes were pointed out to me by an ESL editor that was extremely precise in her review. Many of the differences I didn't even hear when I reviewed the whole audio book with an open copy of the manuscript. I had a hard time finding them even with the specific lines, and page references. To find them I had to listen to the audio book while precisely following the original text with a pointer. I decided to alter the book to match the audio production as I feel this improved some of the emotional dialogue as well as giving the book a bit more organic feel.
If you are a puzzle solver, you might enjoy a re-read because with the improved dialogue I've also added a few better hints at the unseen riptide.
Thanks again for reading yet another rambling article.
Stay Sharp!
+ Leeland