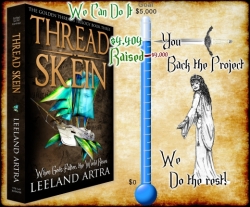 First the great news: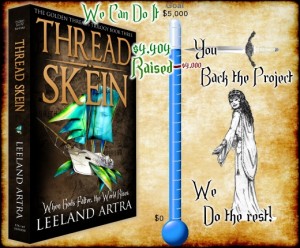 the first stage goal for the Thread Skein Kickstarter has been achieved. It was a real battle and we won. At this point we'll get the funding and everyone who ordered something will get it now.
The Kickstarters have done okay – in case you didn't notice there were two, each for a specific purpose. Running these Kickstarters  has been fun, yet hard. I've learned a lot, how they work, how to advertise them, and what it takes to run one from end to end. As a major boost for publication projects, like books, there just isn't a large enough backer audience. Games, pin-up card decks, and strange devices campaigns appear to pull the deep pocket backers support. This might be because not that many technical people, like those found on Kickstarter, read physical books anymore and are not interested in producing paper based books. I find that a little sad. If we manage to sell out on the limited editions that would cover the lion's share of the costs. However, we are nowhere near that level with only two days remaining I doubt we'll get there. Given the work/reward ratio for these I'm not sure I'll try again.
As far as producing the books, I won't stop doing that. Still, you wouldn't believe how much work goes into getting a book into the distribution ebook, pocket paperback and hardback publication channels. I know, there are a lot of "it's easy to publish" articles out there. But, I'm not talking about the low budget DIY stuff. My books started as, and will always be, high quality products that have as much or more editing, art, and professional touches than the big publishing house books. When I started, I thought writing the manuscripts was hard. Compared to how much is involved after the drafts are complete, I'd say the initial writing is only 20% of the effort. A reasonable analogy is a child looking at adult life and thinking "when I'm grown up I can do anything I want!" Then that same person looking back at themselves from a few years into job/family/mortgage and thinking "sheesh it'd be nice to be a kid again, everything was less complicated."
In order to get Thread Skein out there a lot of costs to cover. And as of today, my net profit from the first two books is just under $2k. Production costs for Thread Skein, to date, are roughly $5k with about $2k more before it is all said and done.
The Question is: Can We Do A Sell Out in the last 2 days?
I could really use a bit more assist covering the production costs for Thread Skein. If you haven't backed the third book yet, I'd really appreciate a little uplift support in the form of backing the Kickstarter in exchange for a book (or three) – if not for you, then as a gift for a friend. I just got the pocket paperback proof print for the Thread Slivers and I swear the set is going to be amazing when finally published. Just click on https://www.kickstarter.com/projects/421697159/thread-skein-book-3-of-golden-threads-trilogy and pick a backer level!
Also, please keep telling your friends about this! With two days remaining we can still blow this out. It would be amazing if we sold out of the complete set of first 100 numbered and signed editions!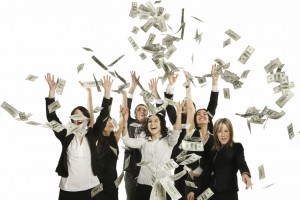 Actually, if you stop and think about it you might want to just beat your friends to the punch. Someday, in a few years, the early signed first editions from me might be worth serious money. Kind of like owning a first edition of any large author. You could buy TWO complete sets by doubling the backer contribution (you get a chance to edit it when you click on a backer level). Then you can have one set to sell on eBay to pay for your vacation dream home when HBO is doing a Duianna Empires series and still have a spare set for your estate to cherish! Just click on the link and get your copies today!

If you want to order extra copies or put together a custom set package just let us know. We'll figure it out and you can get exactly what you want.