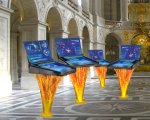 Fan Fun is ... well FUN! In making progress in Thread Skein I ran into a problem. I had never named a particular technology. My brain was stuck in a loop so I called for help from my readers. Sure enough a lot of great ideas came rolling in, sadly only one can make the cut. If you want to find out what technology this was about, how it is used in the book, and more importantly who came up with the winning name...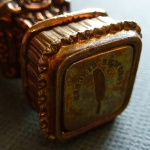 Throughout the Golden Thread Books, there are references to the paramilitary organization called the Nhia-Samri. What they actually are varies wildly depending on who you are dealing with. The Duianna Alliance Assembly commissioned this brief to be written by Countess Electra Neyon just after hostilities broke out in 15723.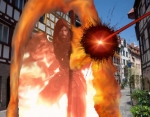 One of the more interesting elements to deal with in the world of Niya-Yur is the mix of magic and technology. There are many moments in the books where readers wonder, "why didn't they just use <insert thing>?" The answer is because reality is complex and those that live in it plan, think, and act according to what they know.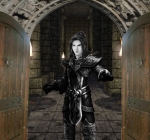 I put the calculations on army sizes into play. It was pretty difficult to kill off so many people. It is war, and that is not pretty, very rarely is it heroic. The events are starting to spin faster and faster starting to pull the characters together to the climax. Here is a really fun scene snippet from the most current finished chapter, let me know what you think.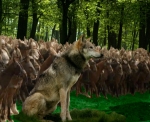 In Thread Skein, I'm tossing around casualty numbers like candy. Being me, I stopped to make sure it made sense. In building Niya-Yur, I estimated the world population at roughly just under one billion for all the continents and races. Using real army statistics I worked backwards from Dagger numbers to population totals to be sure I wasn't far off.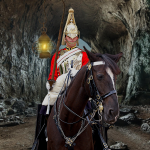 Things are progressing steadily. Even though the current chapter is 8,000+ words it was still hard to find a real non-spoiler slice to share. Here is a rather interesting scene from this chapter which I am sure a large number of fans of Ticca and Lebuin getting together will enjoy. Note I'm not committing one way or the other on this subject. Still it is a fun moment for them.